We Install Durable Replacement Windows for Homeowners in Wexford, PA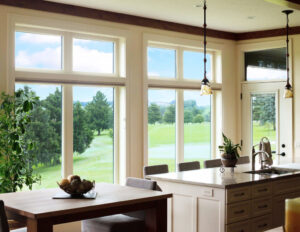 If your home's windows are past their prime, they're likely reducing your home's value, curb appeal, and energy efficiency. Old windows tend to create drafts and may allow water to infiltrate your home, which can cause extensive damage. Thankfully, Energy Swing Windows offers high-quality replacement windows that can address all these issues. Our team is highly skilled and would love to help with your window installation. Homeowners in Wexford, Pennsylvania, trust us with all their home improvement projects, and we'd love to add you to our long list of satisfied customers.
Why Choose a Window Replacement?
The condition of your house windows can greatly impact your home's appearance and energy efficiency. If you've noticed your energy bills rising or you're unhappy with how your windows look, a window replacement can help solve these problems. New windows offer enhanced thermal performance, restore your home's aesthetic, and improve your home security with new, stable lock mechanisms and hardware.
Top-Notch Window Options
Energy Swing Windows installs the best replacement windows on the market. We'll help you choose from the following options during your consultation:
Our patented Energy Swing vinyl windows
ProVia®Endure™ replacement windows
ProVia Aeris™ wood-clad windows
Pella Impervia®fiberglass windows
Pella®Lifestyle wood windows
We'll also help you select the perfect color, texture, and style to suit your home's architecture and vibe.
We'll Restore Your Home
Energy Swing Windows is the name to know for replacement windows in the Wexford, PA, area. We'll install high-quality windows that match your home and ensure you're 100% satisfied. Contact us today to schedule a consultation.