We're Specialists for Sliding Patio Doors in the Irwin, PA, Area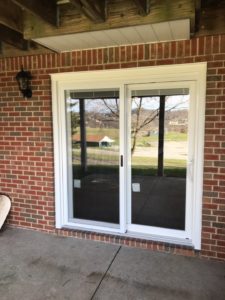 Do your patio doors stick when you open and close them? Are they unattractive, making you less likely to enjoy your outdoor space? If you're unhappy with the state of your exterior doors, let Energy Swing Windows help by installing gorgeous new sliding patio doors at your home in Irwin, Pennsylvania. We're the premier door company that has been serving area homeowners since 1996, and we'd be delighted to help restore your home with a flawless sliding glass door installation.
Sliding Glass Patio Doors for All Needs
Energy Swing Windows is proud to install doors from ProVia®, a trusted name in the home improvement industry. ProVia doors offer unmatched durability and beauty. We can install the following sliding patio doors:
Endure™ – These doors have fantastic thermal performance, thanks to their Neopor®insulated multi-chamber profiles.
Aeris™ – These are a great option if you want highly durable vinyl doors with a beautiful wood interior.
Aspect™ – This option offers excellent energy efficiency with ComforTech™ Warm Edge Glazing, which keeps warm air in during the winter and stops warm air from entering your home in the summer.
Our experts will assist you in selecting the textures, colors, and styles that suit your personal taste and match your home's architecture. We'll work with you to make sure our plan meets your requirements, and we'll follow up to ensure you're delighted with your new sliding patio doors.
Contact Our Friendly Team
Energy Swing Windows is the company to know for sliding patio doors in the Irwin, PA, area. We have extensive experience with all types of home renovation projects, and we would be more than happy to help you realize your vision. Reach out to us today to schedule a consultation.