Chris Saxton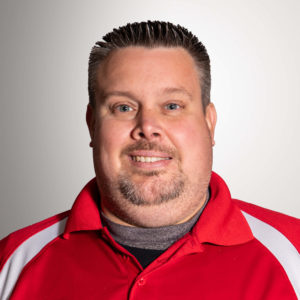 "The sales process that we follow in understanding people's needs and being able to solve all of their problems without ever pressuring the client into making a decision, is what really makes this position unique," says Energy Swing Client Consultant, Chris Saxton.
Chris has been an Energy Swing employee for 19 years now; in fact, he was one of our first employees! He began working as a manufacturing technician, learning how the windows work inside and out, and then moved on to work with the installation crew.  Next, due to his hard work and excellent troubleshooting abilities, Chris was promoted to Customer Expectation Coordinator and Field Service Technician.  "Both new positions still had a major tie back to the installation field, but required me to also become familiar with how the consulting line of the business ran," explains Chris.
In addition to having more responsibility, Chris also learned about the flow of the whole window business from consulting to installation, as well as the transitions in-between.  All of these positions are what make Chris an excellent Client Consultant for Energy Swing today—his experience in every faction of the window replacement process is not only a rarity among Client Consultants in the contracting industry, but more importantly, his knowledge and experience lets homeowners know they are getting the best possible price and service for what they need without having to worry about being cheated.
Steve Rennekamp, President of Energy Swing, says that Chris "is always looking out for the customer. He works very hard at understanding customer needs and doing everything possible to meet their expectations."  And since it is Chris' job to stand by the customer to continually educate them and make their experience an excellent one from the consulting process through completion of installation, it is very important to him that he keeps the customer's needs and wants as his main focus and top priority.
Although Chris has a demanding schedule as a Client Consultant, when he does get a free moment you can find him spending time with his children, Caden (11) and Gianna (8), and his wife Vanessa. Chris enjoys helping coach his son in soccer and spending time outdoors with his entire family.