Tracy Keller
When Tracy came into the Energy Swing family in 2010 with a solid 17 years of window-making experience under his belt, it was clear that he had exactly what it took to be our Manufacturing Manager. Tracy's role is filled with many duties, however,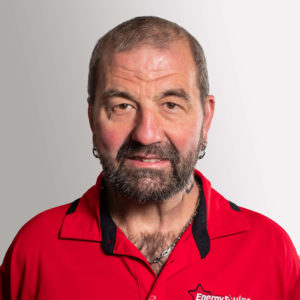 his top priorities are keeping track of job progress, tracking inventory, and final assembly of products. Nothing leaves our plant without Tracy's stamp of approval. He prides himself on perfecting his work to guarantee customer satisfaction. Tracy also maintains the company vehicles and runs service calls when needed.
Away from Energy Swing, Tracy enjoys his time with his wife, Tina, and his two daughters, Samantha and Taylor. While at home, Tracy spends a lot of his time working on cars and home improvement projects. He is very good with his hands, making him "Mr. Fix It" at home. The family also has a big pool in the yard where they spend their summers swimming and throwing parties.